Since the 1970s The Veazie Salmon Club has hosted anglers from around the country as they fished the productive Penobscot River pools for Atlantic Salmon. At its peak the first Atlantic salmon caught each season was delivered straight to White House for presentation to the President of the United States. The clubhouse and grounds are a grassroots conduit for people from all places to congregate and celebrate Maine's fishing heritage.
The Veazie Salmon Club is striving to regain it's presence in the local community and Bangor Region. The membership is rich with those who love to fish for all species including Atlantic salmon. In addition the membership consists of folks who enjoy activities including fishing, canoeing, kayaking, hunting, hiking, and so many other outdoor sports. The Veazie Salmon Club wants to foster an active membership that promotes Maine's rich outdoor heritage. Become a member today and come be a part of the excitement and fun at The Veazie Salmon Club!
Email us at info@veaziesalmonclub.org,  Find us on Facebook , call, or even stop by anytime to get a New Member application!
 Opening Season Angler's Breakfast & BBQ Huge Success!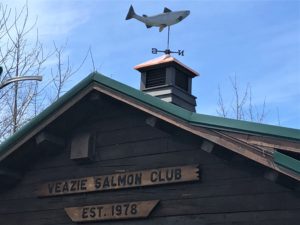 After almost a decade of silence The Veazie Salmon Club roared back in its 41st year of operation. Club Members, Veazie residents, and many others from surrounding communities came to reunite. Some even came to see the inside of the Club for their first time. Attendees were treated to some great home cooked food plus an assortment of great raffle prizes, a 50/50 drawing, plus ending the day with a heartfelt cupola dedication. At the ceremony a member authored poem called Roger's Salmon written specifically for the salmon shaped weather vane & cupola was publicly shared. In addition the poem gave special recognition to all deceased members of the Veazie Salmon Club.
The clubhouse and deck overlooking the river was a buzz of vibrant activity until late into the afternoon. Many attendees spent time enjoying the rich history of fishing photos and memorabilia throughout the Club sharing their own stories, or those of past relatives and friends who participated at the Veazie Salmon Club. Not only were there plenty of fishing tales, but there were as many stories about epic cribbage tournaments and  other social events that took place. It was truly amazing to hear how the Veazie Salmon Club has touched so many people in different ways. After well over 125 fishermen, sportsmen, local merchants, and citizens attended Saturday is was very evident that The Veazie Salmon Club holds a special place in a lot hearts.
With a growing membership and plans for expanding activities the Veazie Salmon Club is positioning for the future. Many thanks go out to all who attended and especially to the dedicated Club Members who helped make this event a reality. Maine's rich fishing heritage is well captured and will continue  to spawn at the Veazie Salmon Club. It also serves as public access to the river for fishermen and others looking to enjoy the Penobscot River.
And Yes Stay Tuned….The Bell Will Ring Again!