VSC Meeting & Guest Speaker Event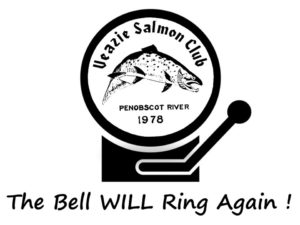 This Thursday January 24th is the first Veazie Salmon Club Meeting of 2019!  In addition to members we are also inviting non-members interested in the Club to join us. Plan on some social time and a bite to eat together from 5:30- 6:30. If we can get your RSVP it sure helps with food prep and no matter $5 a plate max! What a deal! 
6:30 to 7:00 we will be having the Club meeting to discuss necessary 2019 work around the Club. This will range from listing facility maintenance & repairs to outreach and communication activities, and also include a discussion about desired renovations. Everyone's input is valuable and we desperately need more member participation to support work at the Club along with upcoming outdoor shows! 
At 7:00PM there will be an interesting presentation by a local fish biologist who lives in Hampden on the Penobscot River and gets to interact with UMaine graduate students. He will present work conducted by University of Maine graduate students to understand fish migration in our changing Penobscot River.  He will try to focus on some of the methods in the toolbox of fish biologists including telemetry, electrofishing, DIDSON, even good old fashioned models and the importance of "sound science".   Lot's of good pictures, and some science too!
We hope you can make this meeting and if possible RSVP as soon as possible. We have a great year ahead, so get to the Veazie Salmon Club and make it part of your plan! 
Free Fly Tying Tuesday January 15th!
Starting at 6:00PM Fly Tying for everyone at The Veazie Salmon Club every Tuesday nite until further notice!
Beginner? Advanced? ….bring your equipment or use equipment provided by the club!  Coffee, tea, snacks etc…or bring your favorite beverages!  don't want to tie flies…just come & watch!
All and any types of flies!  Salmon, Shad, striper, Trout, bass or whatever….need help?  We will have some members there to help if you need it….come & have a nice relaxing evening…..etc….Please come to help out, if you are already experienced!
Every Monday nite except Monday before Christmas and New Years, until further notice!
PAST EVENTS
November 15th – U.S. Salmon on the Edge: Salmon, Climate Science, and Managing for Resilience
This Thursday November 15th John Kocik from the NOAA-F Northeast Fisheries Science Center and member of the Atlantic Salmon Ecosystems  Research Team (ASERT) will be presenting at The Veazie Salmon Club "U.S. Salmon on the Edge."  John most recently gave this presentation at the NY Annual Meeting of the American Salmon Federation.
Member and interested non-members are welcome to attend!  We will start with a BBQ and then move into our Club meeting and John's presentation.  Members please try and make this interesting night and non-members come see the Club and hear about one of Maine's most famous and cherished fish!
RSVP for food prep purposes to info@veaziesalmonclub.org is greatly appreciated!
Maine Canoe & Kayak Racing Organization Paddle to Veazie – October 28th 
Paddlers from  MaCKRO will be stopping to meet at the Veazie Salmon Club on Sunday October 28th from 12-3pm. MaCKRO is an organization dedicated to the promotion of races throughout Maine and New England. We strongly urge you to join MaCKRO so that we can continue to expand the sport of racing canoes, kayaks, and SUPs.  A current focus of MaCKRO is in promoting our sport to kids, women, and millenials.
Welcome to VSC and enjoy!
UMaine Fishing Club Meeting   – October 24th @ 7PM
The UMaine Fishing Club will be enjoying the Veazie Salmon Club facilities as they host a member fly tying tutorial event. Fly tyers from VSC may also be joining in. UMaine has a great student fishing club organized for the sole purpose of sharing fishing knowledge, fostering opportunities for fishing experiences for undergraduates, and study the biological and ecology associated with fishing while promoting conservation of local ecosystems. Check them out here at About the UMaine Fishing Club
We welcome the UMaine Fishing Club and look forward to continuing to support and connect with fellow anglers!