Come Join Us Saturday May 11 !!!
The Veazie Salmon Club will be hosting an Opening Season Day breakfast and BBQ from 7am-2:30pm. The public is welcome to come enjoy the Club along with great food, fishing, and chances to win some great prizes being raffled and auctioned!
Re-organized as a vibrant 501(c)(3) with a full complement of Officers and by-laws to operate, the Veazie Salmon Club is rebuilding for the future. Fishing plus so many other local traditions along our waterways have long-shaped our cultural and economic history. For centuries people have traveled the globe to come enjoy the Penobscot River, and even today Atlantic salmon and other species continue to journey back to our region.
The Veazie Salmon Club is working hard to promote awareness and provide education about our region's rich waterway history and unique heritage. How we can protect our natural resources for the next generations as we head into the future?  Providing education into rich fishing traditions, sharing local heritage, promoting scholarships, fly casting lessons, fly tying, plus hosting frequent informational environmental and scientific presentations are just a few activities happening at The Veazie Salmon Club!
We have a year-round facility located at 30 Old County Road in Veazie right on the river bank. River access with a great view which is open to the public and all are welcome to enjoy anytime.
We would greatly appreciate any and all support to help spread the word about our Saturday May 11th event from 7am – 2:30pm. Attached is the flyer outlining our event. Any and all donation considerations would also help as we are a small crew trying to add big value to our region!
Please come join and thanking you in advance for your support!
Email us at info@veaziesalmonclub.org ask about it!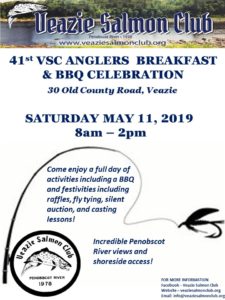 RSVP appreciated email info@veaziesalmonclub.com
VSC Meeting & Guest Speaker Event this Thursday Feb 28th from 5-7PM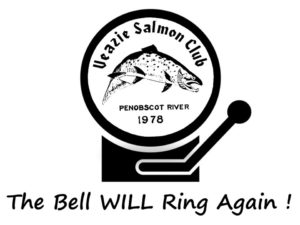 Not a member yet but interested?  Please come join us at The Veazie Salmon Club at  30 Old County Road.  Plan on a little social time, a bite to eat, some quick Club updates ending with a guest speaker. Tom McKechnie from Friends of Craig Brook will join us to talk about their organizations efforts towards Atlantic salmon population recovery too!  Don't miss it!   RSVP's always appreciated please and thanks! 
Free Fly Tying Tuesday January 15th!
Starting at 6:00PM Fly Tying for everyone at The Veazie Salmon Club every Tuesday nite until further notice!
Beginner? Advanced? ….bring your equipment or use equipment provided by the club!  Coffee, tea, snacks etc…or bring your favorite beverages!  don't want to tie flies…just come & watch!
All and any types of flies!  Salmon, Shad, striper, Trout, bass or whatever….need help?  We will have some members there to help if you need it….come & have a nice relaxing evening…..etc….Please come to help out, if you are already experienced!
Every Monday nite except Monday before Christmas and New Years, until further notice!
PAST EVENTS
November 15th – U.S. Salmon on the Edge: Salmon, Climate Science, and Managing for Resilience
This Thursday November 15th John Kocik from the NOAA-F Northeast Fisheries Science Center and member of the Atlantic Salmon Ecosystems  Research Team (ASERT) will be presenting at The Veazie Salmon Club "U.S. Salmon on the Edge."  John most recently gave this presentation at the NY Annual Meeting of the American Salmon Federation.
Member and interested non-members are welcome to attend!  We will start with a BBQ and then move into our Club meeting and John's presentation.  Members please try and make this interesting night and non-members come see the Club and hear about one of Maine's most famous and cherished fish!
RSVP for food prep purposes to info@veaziesalmonclub.org is greatly appreciated!
Maine Canoe & Kayak Racing Organization Paddle to Veazie – October 28th 
Paddlers from  MaCKRO will be stopping to meet at the Veazie Salmon Club on Sunday October 28th from 12-3pm. MaCKRO is an organization dedicated to the promotion of races throughout Maine and New England. We strongly urge you to join MaCKRO so that we can continue to expand the sport of racing canoes, kayaks, and SUPs.  A current focus of MaCKRO is in promoting our sport to kids, women, and millenials.
Welcome to VSC and enjoy!
UMaine Fishing Club Meeting   – October 24th @ 7PM
The UMaine Fishing Club will be enjoying the Veazie Salmon Club facilities as they host a member fly tying tutorial event. Fly tyers from VSC may also be joining in. UMaine has a great student fishing club organized for the sole purpose of sharing fishing knowledge, fostering opportunities for fishing experiences for undergraduates, and study the biological and ecology associated with fishing while promoting conservation of local ecosystems. Check them out here at About the UMaine Fishing Club
We welcome the UMaine Fishing Club and look forward to continuing to support and connect with fellow anglers!